Join the 'Platelet Aggregation Inhibition' group to help and get support from people like you.
Platelet Aggregation Inhibition News
Posted 6 May 2014 by Drugs.com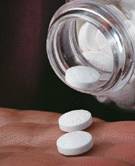 TUESDAY, May 6, 2014 – Taking an aspirin a day can help prevent heart attack and stroke in people who have suffered such health crises in the past, but not in people who have never had heart problems, according to the U.S. Food and Drug Administration. "Since the 1990s, clinical data have shown that in people who have experienced a heart attack, stroke or who have a disease of the blood vessels ...
Further Information
Related Condition Support Groups
Cardiovascular Conditions and Disorders
Related Drug Support Groups