Join the 'Percy Medicine' group to help and get support from people like you.
Percy Medicine News
Posted 23 May 2013 by Drugs.com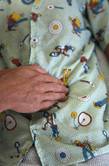 THURSDAY, May 23 – People who suffer from frequent heartburn may be at increased risk for cancers of the throat and vocal cords even if they don't smoke or drink alcohol, a new study says. Interestingly, common over-the-counter antacids seemed to protect against these cancers while prescription medications such as Prilosec, Nexium and Prevacid didn't, the researchers said. "There has been a ...
Posted 15 Apr 2011 by Drugs.com
-- Antacids are medications that counteract acids in the stomach, to help ease heartburn discomfort. Many of these drugs are sold over-the-counter. But not everyone should take antacids, despite their wide availability, the American Academy of Family Physicians says. The academy mentions these people who shouldn't take antacids without first consulting a physician: People who are passing bloody ...
Further Information
Related Condition Support Groups
Traveler's Diarrhea, Indigestion
Percy Medicine Patient Information at Drugs.com