Join the 'Pentoxil' group to help and get support from people like you.
Pentoxil News
Posted 5 Feb 2013 by Drugs.com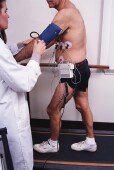 TUESDAY, Feb. 5 – The blood pressure drug ramipril may make walking a bit easier for people with clogged leg arteries, new study results suggest. Researchers found that of 212 people with peripheral artery disease (PAD), those given ramipril every day for nearly six months were faring better on their feet than those on inactive placebo pills. On average, they could walk on a treadmill 4 minutes ...
Further Information
Related Condition Support Groups
Pentoxil Patient Information at Drugs.com