Join the 'Peglase' group to help and get support from people like you.
Peglase News
Posted 17 Aug 2011 by Drugs.com
CHICAGO, Aug. 16, 2011—As an alternative to a conventional treatment for gout that some patients may not respond to, patients with severe, chronic gout who received the medication pegloticase for 6 months had greater improvement in measures of uric acid levels as well as physical function and quality of life, according to a study in the August 17 issue of JAMA. Long-term urate (a salt derived f ...
Posted 16 Aug 2011 by Drugs.com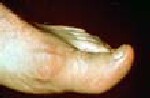 TUESDAY, Aug. 16 – For some gout patients afflicted with a particularly severe, crippling form of the disease who find standard treatments either intolerable or ineffective, a recently approved alternative appears to afford relief. A new injectable treatment called pegloticase (brand name Krystexxa) has no effect on most severe gout patients, but researchers say that for the roughly four in 10 ...
Further Information
Related Condition Support Groups
Related Drug Support Groups
Peglase Patient Information at Drugs.com