Join the 'Palonosetron' group to help and get support from people like you.
Palonosetron News
Posted 30 Jun 2017 by Drugs.com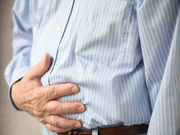 FRIDAY, June 30, 2017 – Your friends are excited to ride that monster roller coaster, but just looking at it makes you queasy. Is there anything you can do to quell your motion sickness so you can join in the fun? If you suffer from motion sickness, there are some ways to deal with it, one doctor says, though riding roller coasters isn't likely an activity you'll ever love. Motion sickness can ...
Posted 14 Oct 2014 by Drugs.com
October 10, 2014 – The U.S. Food and Drug Administration today approved Akynzeo (netupitant and palonosetron) to treat nausea and vomiting in patients undergoing cancer chemotherapy. Akynzeo is a fixed combination capsule comprised of two drugs. Oral palonosetron, approved in 2008, prevents nausea and vomiting during the acute phase (within the first 24 hours) after the start of cancer ...
Further Information
Related Condition Support Groups
Nausea / Vomiting - Postoperative, Nausea / Vomiting - Chemotherapy Induced
Related Drug Support Groups
Palonosetron Patient Information at Drugs.com