Join the 'Osteolytic Bone Metastases of Solid Tumors' group to help and get support from people like you.
Osteolytic Bone Metastases of Solid Tumors News
Related terms: Bone Metastases
Posted 29 Jul 2016 by Drugs.com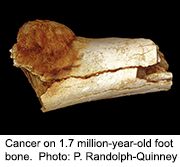 FRIDAY, July 29, 2016 – Researchers report that they have unearthed the earliest evidence of bone tumors and cancers, dating back almost 2 million years. The discoveries challenge the belief that cancer is a disease of modern life, the study authors said. "Modern medicine tends to assume that cancers and tumors in humans are diseases caused by modern lifestyles and environments. Our studies show ...
Posted 9 Mar 2009 by Drugs.com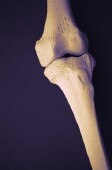 MONDAY, March 9 – Injecting "bone cement" into lesions in patients whose cancer has spread to their bones can literally allow these individuals to rise from their deathbeds and live the remainder of their lives relatively pain-free. Italian researchers presenting these findings Monday at the Society of Interventional Radiology annual meeting in San Diego called it the "Lazarus Effect," referring ...
Further Information
Related Drug Support Groups