Join the 'Northyx' group to help and get support from people like you.
Northyx News
Posted 14 Aug 2012 by Drugs.com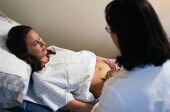 TUESDAY, Aug. 14 – Thyroid hormone is critical for normal fetal brain development, and hormonal problems among pregnant women must be properly managed, according to the Endocrine Society, which just revised its guidelines on treating thyroid-related medical issues before, during and after pregnancy. Too much or not enough thyroid hormone can harm both women and their unborn babies, the experts ...
Further Information
Related Condition Support Groups
Northyx Patient Information at Drugs.com