Join the 'Nephrotic Syndrome' group to help and get support from people like you.
Nephrotic Syndrome News
Related terms: Congenital Nephrotic Syndrome, Nephrosis
Posted 7 Jun 2016 by Drugs.com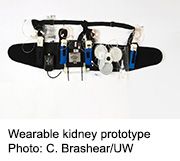 TUESDAY, June 7, 2016 - Someday, dialysis patients might free themselves of clunky machines, moving about with a "wearable artificial kidney" instead. That's the promise of a new clinical trial that suggests this type of technology is finally within reach. "This would be a game changer," said one kidney specialist, Dr. Maria DeVita. "The fact that clinical trials are beginning gives us all hope ...
Further Information
Related Condition Support Groups
Renal and Genitourinary Disorders
Related Drug Support Groups
prednisone, cortisone, prednisolone, triamcinolone, CellCept, cyclosporine, tacrolimus, azathioprine, mycophenolate mofetil, view more... Orapred, Cytoxan, Kenalog-40, Deltasone, hydrochlorothiazide / spironolactone, Sterapred DS, Sterapred, Prelone, cyclophosphamide, Millipred DP, Bubbli-Pred, Meticorten, Liquid Pred, Orasone, Prednicen-M, Cortone Acetate, Prednicot, Veripred 20, Clinacort, Delta-Cortef, Flo-Pred, Pri-Cortin 50, Millipred, Predcor, Predalone 50, Predicort RP, Hydeltrasol, Neosar, PediaPred, Aldactazide, Orapred ODT, Cytoxan Lyophilized, Hydeltra-TBA, Key-Pred, Medicort, Cotolone, Predicort-50, Predacort 50, Predate-50, Predaject-50, Pred-Ject-50, Key-Pred SP, AsmalPred Plus