Join the 'Neostigmine' group to help and get support from people like you.
Neostigmine News
Posted 23 Jan 2017 by Drugs.com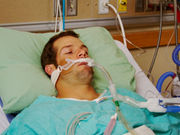 MONDAY, Jan. 23, 2017 – Improved catheter safety measures in hospitals significantly reduce bloodstream infections and health care costs, a new study indicates. "Safety interventions are a win-win for both patients and hospitals," said study leader Dr. Teryl Nuckols of Cedars-Sinai Medical Center in Los Angeles. She is director of the center's division of general internal medicine. More than ...
Posted 5 Jun 2013 by Drugs.com
LYON, FRANCE – (Marketwire) – 06/03/2013 – Flamel Technologies today announced that the U.S. Food and Drug Administration (FDA) has approved the company's New Drug Application (NDA) for Bloxiverz (neostigmine methylsulfate), a drug used intravenously in the operating room for the reversal of the effects of non-depolarizing neuromuscular blocking agents after surgery. Flamel expects to launch ...
Further Information
Related Condition Support Groups
Reversal of Neuromuscular Blockade, Myasthenia Gravis, Urinary Retention, Reversal of Nondepolarizing Muscle Relaxants
Related Drug Support Groups
Bloxiverz, Prostigmin, Prostigmin Bromide
Neostigmine Patient Information at Drugs.com