Join the 'Myelofibrosis' group to help and get support from people like you.
Myelofibrosis News
Related terms: Idiopathic myelofibrosis, Myeloid metaplasia, Agnogenic myeloid metaplasia, Primary myelofibrosis, Secondary myelofibrosis, MF
Posted 29 Feb 2012 by Drugs.com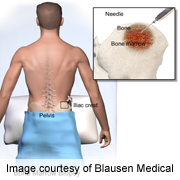 WEDNESDAY, Feb. 29 – Two new studies confirm that the new drug ruxolitinib can help people with the rare bone marrow disorder called myelofibrosis. While the drug, marketed in the United States under the brand name Jakafi, won't cure myelofibrosis, it can help ease symptoms, improve quality of life, and possibly improve survival according to the studies. "This is probably the most thrilling ...
Further Information
Related Condition Support Groups
Related Drug Support Groups