Join the 'Myelodysplastic Syndrome' group to help and get support from people like you.
Myelodysplastic Syndrome News
Related terms: MDS
Posted 8 Sep 2016 by Drugs.com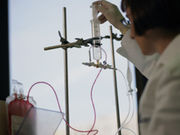 WEDNESDAY, Sept. 7, 2016 – Bone marrow or stem cell transplants can save the lives of adults and children with leukemia, but an ideal donor often isn't available. In those cases, umbilical cord blood may work as well as current alternatives – or even better in some cases, a new study suggests. "Often, cord-blood transplant is thought to be only as the last resource for patients without donors. ...
Posted 15 Mar 2010 by Drugs.com
WOODCLIFF LAKE, N.J., March 11 /PRNewswire-FirstCall/ – Eisai Inc. today announced that the U.S. Food and Drug Administration (FDA) has approved a five-day dosing regimen for Dacogen (decitabine) for Injection to treat patients with myelodysplastic syndromes (MDS), a group of bone marrow diseases that alter the production of functional blood cells. The new outpatient dosing option provides ...
Further Information
Related Condition Support Groups
Related Drug Support Groups