Join the 'Methemoglobinemia' group to help and get support from people like you.
Methemoglobinemia News
Related terms: Acquired Methemoglobinemia
Posted 29 Jan 2015 by Drugs.com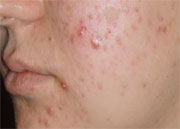 THURSDAY, Jan. 29, 2015 – For certain people, the acne treatment Aczone may be linked to a rare blood disorder, a new case study contends. A 19-year-old woman who had used Aczone – the skin gel version of the drug dapsone – for a week developed a serious condition called methemoglobinemia. The patient showed up at a Pittsburgh emergency room with a headache, shortness of breath, and blue lips ...
Further Information
Related Drug Support Groups