Join the 'Mestinon' group to help and get support from people like you.
Mestinon News
Posted 2 Feb 2016 by Drugs.com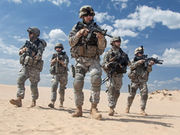 MONDAY, Feb. 1, 2016 – Exposure to pesticides and other toxins appears to be the cause of Gulf War illness in U.S. veterans, a new analysis states. The Boston University researchers reviewed studies on Gulf War illness, and said their findings "clearly and consistently" show a link between the disorder and exposure to pesticides and taking pyridostigmine bromide (PB) pills, which were meant to ...
Further Information
Related Condition Support Groups
Myasthenia Gravis, Dysautonomia, Nerve Agent Pretreatment, Reversal of Nondepolarizing Muscle Relaxants
Mestinon Patient Information at Drugs.com