Join the 'Meningitis - Lymphomatous' group to help and get support from people like you.
Meningitis - Lymphomatous News
Posted 25 May 2011 by Drugs.com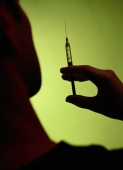 WEDNESDAY, May 25 – The incidence of bacterial meningitis dropped by 31 percent between 1998 and 2007, new government research shows. The drop was led by reductions in infections by two powerful germs – Neisseria meningitidis and Streptococcus pneumoniae – that are covered by available immunizations. With fewer infections among young children, the burden of the disease is now mainly borne by ...
Further Information
Related Condition Support Groups
Related Drug Support Groups