Join the 'Mechanical Ventilation' group to help and get support from people like you.
Mechanical Ventilation News
Posted 9 Dec 2015 by Drugs.com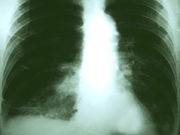 WEDNESDAY, Dec. 9, 2015 – New research suggests that more careful selection of patients could help improve the success rate of valves implanted into the lungs of people with emphysema. The valves aim to improve breathing, allowing patients with the chronic lung disease to be more active and to perhaps survive longer. Previous research into the valves has been mixed, but the new Dutch study found ...
Further Information
Related Condition Support Groups