Join the 'Mannitol / Sorbitol' group to help and get support from people like you.
Mannitol / Sorbitol News
Posted 9 May 2016 by Drugs.com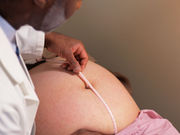 MONDAY, May 9, 2016 – Pregnant women who drink artificially sweetened drinks every day may be more likely to give birth to heavier babies who are then more likely to become overweight children, researchers report. "Infants born to women who regularly consumed one or more artificially sweetened beverages during pregnancy were twice as likely to be overweight by 1 year of age," said study author ...
Further Information
Mannitol / Sorbitol Patient Information at Drugs.com