Join the 'Maggots' group to help and get support from people like you.
Maggots News
Posted 20 Dec 2011 by Drugs.com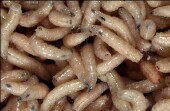 TUESDAY, Dec. 20 – The surgeons' scalpel may have new (and wriggling) competition in cleaning troublesome wounds: maggots. To the uninitiated the treatment may seem strange. But new French research suggests that bagging up live, sterile fly larvae in tightly meshed dressing packs and applying them to open sores can be a quick, safe and effective way to clear away dead tissue. Actually, "maggot ...
Posted 8 Feb 2010 by Drugs.com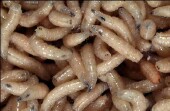 FRIDAY, Feb. 5 – Maggots used to treat chronic wounds can be killed by a type of bacteria that infects the wounds, Danish researchers say. Use of maggots to disinfect wounds (maggot debridement therapy) is standard procedure at wound care centers worldwide. The maggots consume dead tissue and ingest bacteria that are killed in the gut. In addition, the maggots secrete antimicrobial compounds ...
Further Information
Maggots Patient Information at Drugs.com