Join the 'Macugen' group to help and get support from people like you.
Macugen News
Posted 12 Sep 2011 by Drugs.com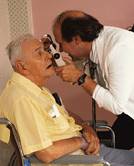 MONDAY, Sept. 12 – Repeated use of antibiotics among patients who receive eye injections for such ophthalmic conditions as age-related macular degeneration can lead to the emergence of drug-resistant germs, according to a new study. More than eight million people in the United States are affected by age-related macular degeneration, and its treatment involves monthly injections that are ...
Posted 7 Apr 2006 by Drugs.com
[Posted 04/07/2006] (OSI)Eyetech/Pfizer and FDA notified healthcare professionals of important changes in the approved product labeling for Macugen (pegaptanib sodium injection), including changes to the CONTRAINDICATIONS, PRECAUTIONS, ADVERSE EVENTS Post-Marketing, and DOSAGE and ADMINISTRATION sections. Rare reports of anaphylaxis/anaphylactoid reactions, including angioedema following the ...
Further Information
Related Condition Support Groups
Macugen Patient Information at Drugs.com