Join the 'Maca' group to help and get support from people like you.
Maca News
Posted 13 Jan 2016 by Drugs.com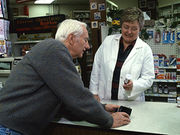 WEDNESDAY, Jan. 13, 2016 – There's no proof that over-the-counter sexual enhancement supplements for men work, and some are potentially dangerous, a new study reports. Many men seeking medical help for sexual health issues report using dietary supplements. But with little regulation of dosage or ingredients, the health effects of these products are unknown, the researchers said in background ...
Further Information
Related Condition Support Groups