Join the 'Lysteda' group to help and get support from people like you.
Lysteda News
Posted 6 Sep 2016 by Drugs.com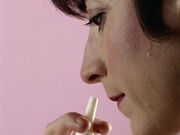 TUESDAY, Sept. 6, 2016 – A simple salt-based spray is as effective as medicated sprays in controlling chronic nosebleeds, a new study contends. "This research highlights that there could be a benefit even in the simplest of interventions," said corresponding study author Dr. Kevin Whitehead. He is an associate professor of internal medicine at the University of Utah School of Medicine. People ...
Posted 9 Jan 2013 by Drugs.com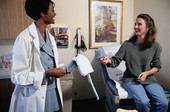 WEDNESDAY, Jan. 9 – Women with heavy menstrual bleeding may find some relief using an intrauterine device, or IUD, containing the hormone levonorgestrel, according to new research. British researchers found that the treated IUD was more effective at reducing the effects of heavy menstrual bleeding (also called menorrhagia) on quality of life compared to other treatments. Normally used for ...
Further Information
Related Condition Support Groups
Menorrhagia, Menstrual Disorders
Lysteda Patient Information at Drugs.com