Join the 'Lysteda' group to help and get support from people like you.
Lysteda News
Posted 6 Sep 2016 by Drugs.com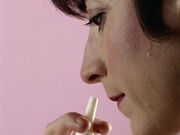 TUESDAY, Sept. 6, 2016 – A simple salt-based spray is as effective as medicated sprays in controlling chronic nosebleeds, a new study contends. "This research highlights that there could be a benefit even in the simplest of interventions," said corresponding study author Dr. Kevin Whitehead. He is an associate professor of internal medicine at the University of Utah School of Medicine. People ...
Further Information
Related Condition Support Groups
Lysteda Patient Information at Drugs.com