Join the 'Liver Magnetic Resonance Imaging' group to help and get support from people like you.
Liver Magnetic Resonance Imaging News
Posted 30 Aug 2012 by Drugs.com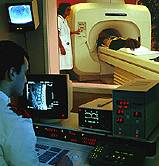 THURSDAY, Aug. 30 – Exposure to magnetic fields generated by MRI scanners may lower a person's mental skills, according to a small new study. The effects were most noticeable in tasks that required high levels of working memory, which could have implications for surgeons and other medical staff who work within the vicinity of MRI scanners, the researchers said. The study was published online ...
Further Information
Related Condition Support Groups
Related Drug Support Groups