Join the 'Librax' group to help and get support from people like you.
Librax News
Posted 3 Mar 2015 by Drugs.com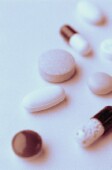 TUESDAY, March 3, 2015 – Drugs used to treat a wide range of health problems may be associated with an increased risk of pneumonia, a new study suggests. Anticholinergic medications include those used for conditions such as allergies (for example, Benadryl), overactive bladder (including Ditropan), depression (for example, doxepin) and insomnia (Sominex, etc.). "Our study is the first to address ...
Further Information
Related Condition Support Groups
Irritable Bowel Syndrome, Peptic Ulcer, Enterocolitis
Librax Patient Information at Drugs.com