Join the 'Lamprene' group to help and get support from people like you.
Lamprene News
Posted 9 Dec 2015 by Drugs.com
-- By taking an antibiotic as prescribed, you can get well faster and help prevent germs from becoming resistant to your medication. The U.S. Centers for Disease Control and Prevention offers these antibiotic guidelines: Never skip a dose of antibiotic. Always take it on schedule, as directed. Never stop taking an antibiotic early. Always take the entire prescription, unless your doctor tells ...
Posted 4 Feb 2009 by Drugs.com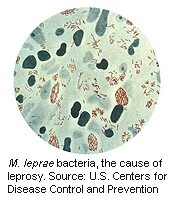 WEDNESDAY, Feb. 4 – A century-old antibiotic used to treat leprosy may prove effective as a treatment for multiple sclerosis and other autoimmune diseases, Johns Hopkins researchers say. They screened thousands of U.S. Food and Drug Administration-approved drugs and identified clofazimine, created in the 1890s, as a drug that targets a molecular pathway that plays an important role in guiding ...
Further Information
Related Condition Support Groups
Leprosy, Leprosy - Dapsone-Sensitive, Leprosy - Dapsone-Resistant, Leprosy - Erythema Nodosum Leprosum
Lamprene Patient Information at Drugs.com