Join the 'Khat' group to help and get support from people like you.
Khat News
Posted 13 Dec 2011 by Drugs.com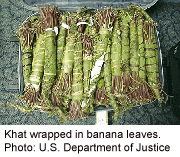 TUESDAY, Dec. 13 – Chewing the green leaves of the khat plant for its amphetamine-like effect appears to raise the risk for both stroke and death among heart patients, according to a large new study from the Middle East. The finding, however, could have relevance far beyond that region, as emigration has increasingly brought khat-chewing to the shores of both Europe and North America. Consumed ...
Posted 29 Apr 2010 by Drugs.com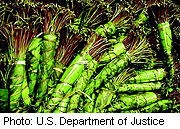 WEDNESDAY, April 28 – Chewing khat leaves for a mild high is popular in East Africa and the Arabian Peninsula, and the practice is also seen among certain immigrant groups in Great Britain and the United States. But chewing khat can cause severe liver damage and even death, British researchers report. Khat contains cathinone, an amphetamine-like stimulant that causes euphoria, excitement and ...
Further Information
Khat Patient Information at Drugs.com