Join the 'Iron Poisoning' group to help and get support from people like you.
Iron Poisoning News
Posted 21 Mar 2016 by Drugs.com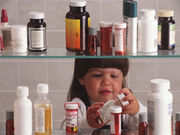 MONDAY, March 21, 2016 – Nearly 60,000 children in the United States are accidentally poisoned by medicines each year, a new report says. That's the equivalent of four busloads of children – or one every nine minutes – arriving at emergency departments every day because of medicine-related poisoning, according to Safe Kids Worldwide. And nearly every minute each day a poison control center ...
Posted 19 Sep 2010 by Drugs.com
FRIDAY, Sept. 17 – Trained as a registered nurse to work in emergency rooms and intensive care units, Hugh Rawls did just that until sidelined a decade ago by a back injury. Today, he's still working in emergency care, but from a different angle. For the past 10 years, he has helped man the phone lines at the Poison Control Center in Jacksonville, Fla. "In a lot of ways, there's some ...
Further Information
Related Condition Support Groups