Join the 'Iron Overload' group to help and get support from people like you.
Iron Overload News
Posted 11 Nov 2016 by Drugs.com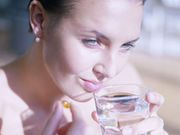 THURSDAY, Nov. 10, 2016 – High levels of iron have been linked with an increased risk of developing diabetes during pregnancy (gestational diabetes), begging the question whether routine recommendations of iron supplements are warranted, a new study says. The new research found that women with the highest iron levels during the second trimester of pregnancy had more than twice the risk of ...
Posted 30 Mar 2015 by Drugs.com
Basel, March 30, 2015 - Novartis announced today that the US Food and Drug Administration (FDA) has approved Jadenu (deferasirox) tablets, a new oral formulation of Exjade (deferasirox) tablets for oral suspension, for the treatment of chronic iron overload due to blood transfusions in patients 2 years of age and older, and chronic iron overload in non-transfusion-dependent thalassemia syndromes ...
Further Information
Related Condition Support Groups
Hemochromatosis, Metabolic Disorder Including Congenital
Related Drug Support Groups