Join the 'Intestinal Obstruction' group to help and get support from people like you.
Intestinal Obstruction News
Related terms: Bowel obstruction, Colonic ileus, Ileus, Intestinal volvulus, Paralytic ileus, Pseudo-obstruction, intestinal
Posted 27 Apr 2016 by Drugs.com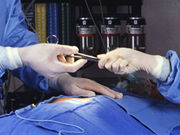 WEDNESDAY, April 27, 2016 – Seven types of operations, including appendectomy and gall bladder removal, account for four out of five emergency general-surgery deaths in the United States, a new study reports. The procedures are: partial removal of the large or small intestine; surgery to repair a bleeding or torn ulcer; separating abdominal organs that have adhered to each other; appendix...
Further Information
Related Condition Support Groups