Join the 'Integrilin' group to help and get support from people like you.
Integrilin News
Posted 9 Dec 2009 by Drugs.com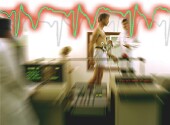 TUESDAY, Dec. 8 – More than one-fifth of patients on dialysis who undergo angioplasty are given blood thinners they should not be given, new research shows. As a result, these patients are subject to a higher rate of bleeding during their hospital stay and may even be at a higher risk of dying, according to a report in the Dec. 9 issue of the Journal of the American Medical Association. The ...
Further Information
Related Condition Support Groups
Percutaneous Coronary Intervention, Acute Coronary Syndrome, Angina, Myocardial Infarction, Heart Attack
Integrilin Patient Information at Drugs.com