Join the 'Hypoproteinemia' group to help and get support from people like you.
Hypoproteinemia News
Posted 13 Jun 2017 by Drugs.com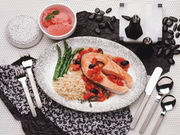 TUESDAY, June 13, 2017 – Cutting out fatty and fried sources of protein makes sense when you're trying to cut calories and eat healthy. But you still need nutritious forms of protein in your diet, according to Nutrition.gov. Here are five great protein sources you'll love when you want to add protein without adding a lot of calories. The first is fish. Besides being low in calories, fish is low ...
Posted 10 Jun 2015 by Drugs.com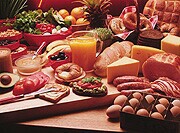 WEDNESDAY, June 10, 2015 – Older adults need a protein-rich diet to maintain muscle mass and strength, a new study suggests. Protein should come from animal and plant sources, since each type of protein appears to play different roles in maintaining lean muscle mass and leg strength. Plant protein helps preserve muscle strength, while animal protein is linked to muscle mass, the researchers ...
Further Information
Related Drug Support Groups
albumin human, Alburx, Albuked 25, Kedbumin, Albuked, Albuked 5, Albuminar-20, Flexbumin, Human Albumin Grifols, view more... Albumin-Alpine, Plasbumin-20, Albutein, Albunex, Albuminar-25, Plasbumin-25, Albumarc, Plasbumin-5, Buminate, Albuminar-5, Plasbumin, Albumin-ZLB