Join the 'Hypervitaminosis A' group to help and get support from people like you.
Hypervitaminosis A News
Posted 9 Mar 2016 by Drugs.com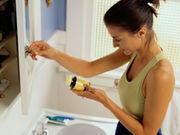 WEDNESDAY, March 9, 2016 – You could be putting your health at risk if you buy imported dietary supplements and nonprescription drug products, the U.S. Food and Drug Administration warns. Health fraud scammers often sell such products at ethnic or international stores, flea markets, swap meets or online, Cariny Nunez, a public health adviser in the FDA's Office of Minority Health, said in an ...
Further Information
Related Condition Support Groups