Join the 'Hormone Replacement Therapy' group to help and get support from people like you.
Hormone Replacement Therapy News
Related terms: Hormone Replacement, HRT
Posted 22 Aug 2011 by Drugs.com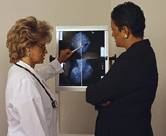 MONDAY, Aug. 22 – The dramatic decline in women's use of hormone therapy mid-decade also appears linked to a decline in mammograms, new research suggests. "We found that women in the age group 50 to 64 reduced their hormone therapy use from 41 percent down to 16 percent between 2000 and 2005," said study lead author Nancy Breen, an economist with the U.S. National Cancer Institute. "At the same ...