Join the 'Herpes Simplex Iridocyclitis' group to help and get support from people like you.
Herpes Simplex Iridocyclitis News
Posted 1 Jul 2009 by Drugs.com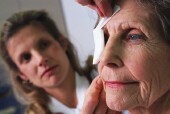 WEDNESDAY, July 1 – Among patients with herpes simplex virus who need a corneal transplant, testing for inflammation biomarkers before the surgery could improve outcomes, U.S. researchers say. The cornea, which covers the front of the eye and helps focus light for vision, can be damaged when herpes simplex virus infects the eye. In some cases, the damage is so great that the cornea needs to be ...
Further Information
Related Condition Support Groups