Join the 'Hematuria' group to help and get support from people like you.
Hematuria News
Posted 24 May 2016 by Drugs.com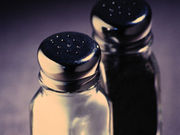 TUESDAY, May 24, 2016 – People with chronic kidney disease face higher odds of heart attack or stroke if they have high-salt diets, a new study suggests. "Moderate sodium reduction among patients with chronic kidney disease and high sodium intake may lower [heart] risk," concluded a team led by Dr. Jiang He, of Tulane University in New Orleans. About one in every 10 Americans is affected by ...
Further Information
Related Condition Support Groups