Join the 'Hemangioma' group to help and get support from people like you.
Hemangioma News
Related terms: Cavernous hemangioma, Strawberry nevus, Infant hemangioma
Posted 18 Feb 2015 by Drugs.com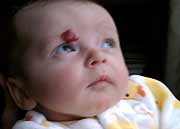 WEDNESDAY, Feb. 18, 2015 – The heart drug propranolol (Inderal) appears to be effective in treating "strawberry" birthmarks known as infantile hemangiomas, a new study finds. About 3 to 10 percent of infants develop an infantile hemangioma, the researchers say. These red, rubbery-looking growths are caused by the abnormal buildup of blood vessels. Although harmless, they can cause physical and ...
Posted 18 Mar 2014 by Drugs.com
Castres (Tarn) – France, Parsippany (NJ) – USA, March 17th, 2014 – Pierre Fabre Dermatologie has obtained marketing authorization from the FDA for the pediatric drug Hemangeol (propranolol hydrochloride), which is the first and only approved treatment for "proliferating infantile hemangioma requiring systemic therapy". Hemangeol is an oral solution specially developed for safe and effective use i ...
Further Information
Related Condition Support Groups
Related Drug Support Groups