Join the 'Gallstone Ileus' group to help and get support from people like you.
Gallstone Ileus News
Posted 23 Jul 2015 by Drugs.com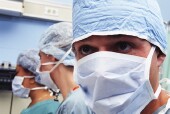 THURSDAY, July 23, 2015 – It's only a tiny, bile-producing sac tucked behind your liver, but if your gallbladder goes awry it can spell big health troubles. In fact, more than 725,000 Americans undergo surgery to treat gallbladder disease each year, say a team of experts reporting July 23 in the New England Journal of Medicine. So what to do when gallbladder trouble – either an inflamed ...
Further Information
Related Condition Support Groups