Join the 'Fungal Pneumonia' group to help and get support from people like you.
Fungal Pneumonia News
Posted 23 Aug 2016 by Drugs.com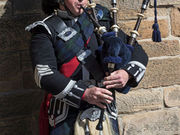 TUESDAY, Aug. 23, 2016 – A British bagpipe player died after contracting a lethal fungal infection from his instrument, researchers say. As the experts explained, the moist interiors of wind instruments can promote the growth of fungi and molds that, when breathed in regularly, can cause chronic inflammatory lung condition called hypersensitivity pneumonitis. The disease is also often linked ...
Further Information
Related Condition Support Groups
Related Drug Support Groups