Join the 'Fungal Meningitis' group to help and get support from people like you.
Fungal Meningitis News
Posted 29 May 2013 by Drugs.com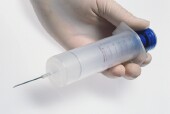 WEDNESDAY, May 29 – Since the start of last year's outbreak of fungal meningitis cases linked to tainted steroid injections, federal health officials have recommended three to six months of antifungal therapy to combat potentially fatal infections. But health officials reported Wednesday that an 80-year-old man received four-and-a-half months of antifungal therapy and seemed cured, only to ...
Further Information
Related Condition Support Groups
Cryptococcosis, Systemic Fungal Infection
Related Drug Support Groups