Join the 'Frankincense, Indian' group to help and get support from people like you.
Frankincense, Indian News
Posted 12 Jan 2012 by Drugs.com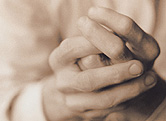 WEDNESDAY, Jan. 11 – There is little evidence to support the widespread use of herbal medicines to relieve the symptoms of osteoarthritis, according to a review of these products. Osteoarthritis is a painful condition that involves damage to cartilage and other structures in and around the joints, particularly the fingers, knees and hips. It differs from rheumatoid arthritis, which is an ...
Posted 22 Dec 2011 by Drugs.com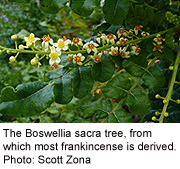 THURSDAY, Dec. 22 – Researchers warn that the trees that produce frankincense are being lost at such a high rate that production of the fragrant resin could fall by half over the next 15 years. The ecologists from the Netherlands and Ethiopia also said that numbers of the trees could drop by 90 percent over the next 50 years. If nothing is done about the causes of this decline – fire, grazing ...
Further Information
Frankincense, Indian Patient Information at Drugs.com