Join the 'Formoterol / glycopyrrolate' group to help and get support from people like you.
Formoterol / glycopyrrolate News
Posted 2 Dec 2016 by Drugs.com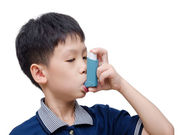 FRIDAY, Dec. 2, 2016 – Research investigating schoolchildren's asthma attacks has pointed to a tiny foe: mice. Allergens from the rodents can infiltrate the air, the study found, and may be a major cause of asthma attacks in the school environment. It's known that many different allergy triggers – from dust mites to mold to pet dander – can fuel children's asthma symptoms. But most research ...
Posted 30 Apr 2016 by Drugs.com
25 April 2016 – AstraZeneca today announced that the US Food and Drug Administration has approved Bevespi Aerosphere (glycopyrrolate and formoterol fumarate) inhalation aerosol indicated for the long-term, maintenance treatment of airflow obstruction in patients with chronic obstructive pulmonary disease (COPD), including chronic bronchitis and/or emphysema. Sean Bohen, Executive ...
Further Information
Related Condition Support Groups
Chronic Obstructive Pulmonary Disease
Related Drug Support Groups
Formoterol / glycopyrrolate Patient Information at Drugs.com