Join the 'Focal Segmental Glomerulosclerosis' group to help and get support from people like you.
Focal Segmental Glomerulosclerosis News
Posted 8 Nov 2013 by Drugs.com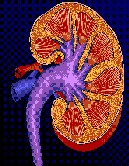 FRIDAY, Nov. 8 – A drug that is currently prescribed for rheumatoid arthritis also may be beneficial for patients with a common form of kidney disease that is difficult to treat and often leads to kidney failure, according to a small new study. Researchers said they also identified a way to help determine which patients would be most likely to benefit from the drug. The condition, called focal ...
Further Information
Related Condition Support Groups
Renal and Genitourinary Disorders
Related Drug Support Groups