Join the 'Floxin Otic' group to help and get support from people like you.
Floxin Otic News
Posted 26 Jul 2016 by Drugs.com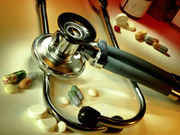 TUESDAY, July 26, 2016 – The U.S. Food and Drug Administration announced Tuesday that it's strengthening label warnings on a class of antibiotics called fluoroquinolones because the drugs can lead to disabling side effects, including long-term nerve damage and ruptured tendons. The agency also cautioned that these bacteria-fighting drugs – including levofloxacin (Levaquin) and ciprofloxacin ...
Further Information
Related Condition Support Groups
Acute Otitis Externa, Otitis Media
Floxin Otic Patient Information at Drugs.com