Join the 'Flaxseed' group to help and get support from people like you.
Flaxseed News
Posted 9 Jun 2017 by Drugs.com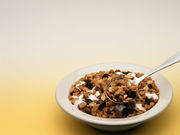 FRIDAY, June 9, 2017 – Though tiny in size, flax packs a big nutritional punch. These sesame-seed lookalikes are considered a functional food – a food that goes beyond basic nutrients to provide health benefits and/or reduce the risk of chronic diseases, according to a report in the Journal of Food Science and Technology. Flaxseed gets the nod because it's high in the omega-3 fatty acid A.L.A. ...
Further Information
Flaxseed Patient Information at Drugs.com