Join the 'Fibricor' group to help and get support from people like you.
Fibricor News
Posted 9 Nov 2011 by Drugs.com
ISSUE: FDA notified healthcare professionals the cholesterol-lowering medicine Trilipix (fenofibric acid) may not lower a patient's risk of having a heart attack or stroke. FDA reviewed the data from the Action to Control Cardiovascular Risk in Diabetes (ACCORD) Lipid trial. The ACCORD Lipid trial found no significant difference in the risk of experiencing a major adverse cardiac event between ...
Posted 22 Mar 2011 by Drugs.com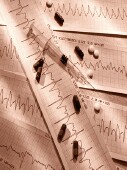 TUESDAY, March 22 – Use of a class of cholesterol-lowering drugs called fibrates is on the rise in the United States despite research that suggests they may not do much to improve health, researchers say. Fibrates are often prescribed to people with low levels of HDL ("good") cholesterol and high levels of triglycerides, a harmful form of fat circulating in the blood, experts explained. The new ...
Further Information
Related Condition Support Groups
High Cholesterol, Hypertriglyceridemia
Fibricor Patient Information at Drugs.com