Join the 'Fesoterodine' group to help and get support from people like you.
Fesoterodine News
Posted 9 Apr 2012 by Drugs.com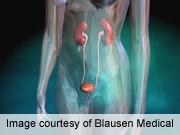 MONDAY, April 9 – For women with urinary incontinence, the available treatments may cause more problems than they solve and many stop taking the medications because of side effects that can include dry mouth and constipation, a new analysis indicates. Urge incontinence is marked by frequent, sudden urges to urinate that can result in leakage and accidents. Standard treatment includes lifestyle ...
Further Information
Related Condition Support Groups
Overactive Bladder, Urinary Incontinence
Related Drug Support Groups
Fesoterodine Patient Information at Drugs.com