Join the 'Extravasation' group to help and get support from people like you.
Extravasation News
Posted 23 Aug 2011 by Drugs.com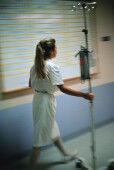 TUESDAY, Aug. 23 – Accidental exposure to highly toxic chemotherapy drugs is common among cancer nurses in the United States, a new study finds. Researchers surveyed 1,339 oncology nurses in one state who work in outpatient chemotherapy infusion centers and found that nearly 17 percent said their skin or eyes had been exposed to the drugs. In the United States, about 84 percent of chemotherapy ...
Further Information
Related Drug Support Groups
hyaluronidase, Vitrase, dexrazoxane, Amphadase, Hylenex, Wydase, Hydase, Totect