Join the 'Euflexxa' group to help and get support from people like you.
Euflexxa News
Posted 28 Jan 2010 by Drugs.com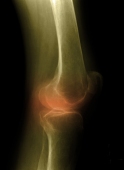 THURSDAY, Jan. 28 – For people with arthritis, injections of a nonsteroidal anti-inflammatory fluid can improve recovery from arthroscopic knee surgery to repair damaged cartilage, researchers say. The fluid, sodium hyaluronate, known by the brand names Hyalgan, Euflexxa, Ostenil and Synject, is made from rooster combs. Studies have shown that hyaluronic acid products can reduce arthritis pain ...
Further Information
Related Condition Support Groups
Euflexxa Patient Information at Drugs.com