Join the 'Esophageal Varices with Bleeding' group to help and get support from people like you.
Esophageal Varices with Bleeding News
Posted 22 Oct 2012 by Drugs.com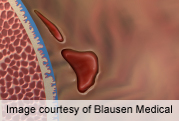 MONDAY, Oct. 22 – Treatment advances have led to a reduction in deaths from upper gastrointestinal (GI) bleeding in the United States over the past two decades, a new study shows. Researchers analyzed nationwide data on patients hospitalized with upper gastrointestinal bleeding and found that the death rate fell from 4.69 percent in 1989 to 2.13 percent in 2009, and the length of hospital stay ...
Further Information
Related Condition Support Groups
Related Drug Support Groups