Join the 'Esophageal Hemorrhage' group to help and get support from people like you.
Esophageal Hemorrhage News
Posted 18 Oct 2016 by Drugs.com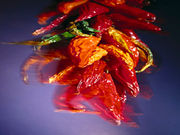 TUESDAY, Oct. 18, 2016 – A San Francisco man who joined an eating contest involving super-hot "ghost peppers" ended up with a hole in his esophagus, doctors report. The 47-year-old showed up at a hospital emergency room after eating ghost peppers, or "bhut jolokia" – one of the hottest peppers known and "more than twice the strength of a habanero pepper," according to a team led by Dr. Ann ...
Further Information
Related Condition Support Groups