Join the 'Ehrlichiosis' group to help and get support from people like you.
Ehrlichiosis News
Related terms: Human granulocytic anaplasmosis, Human granulocytic ehrlichiosis, Human monocytic ehrlichiosis, HME, HGE, HGA
Posted 3 Aug 2011 by Drugs.com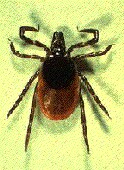 WEDNESDAY, Aug. 3 – First they spread Lyme disease, and then babesiosis. Now, deer ticks carrying a newly identified bacterium are infecting residents of the midwestern United States with a disease called ehrlichiosis, and experts say it will likely appear in other areas of the country. The still unnamed bacterium, which causes fever, body aches and fatigue, has been identified in 25 people in ...
Further Information
Related Condition Support Groups
Related Drug Support Groups
doxycycline, tetracycline, Doryx, Monodox, Doxy 100, Vibramycin, Doxy 200, Vibra-Tabs, Morgidox, view more... Emtet-500, Ocudox, Oraxyl, Sumycin 250, Achromycin V, Tetracon, Robitet 500, Tetracap, Brodspec, Ala-Tet, Panmycin, Doxy-Caps, Doxy-D, Sumycin, Doryx MPC