Join the 'Dystonia' group to help and get support from people like you.
Dystonia News
Posted 7 Apr 2017 by Drugs.com
April 6, 2017 – The U.S. Food and Drug Administration today allowed marketing of 23andMe Personal Genome Service Genetic Health Risk (GHR) tests for 10 diseases or conditions. These are the first direct-to-consumer (DTC) tests authorized by the FDA that provide information on an individual's genetic predisposition to certain medical diseases or conditions, which may help to make decisions about l ...
Posted 1 Apr 2011 by Drugs.com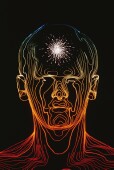 THURSDAY, March 31 – For people with the movement disorder dystonia, starting deep brain stimulation therapy early in the course of the disease provides better results, according to a new study. Dystonia is a potentially crippling disorder that causes muscles to contract, resulting in involuntary twisting of affected areas of the body. Deep brain stimulation is approved in the United States for ...
Further Information
Related Condition Support Groups
Cervical Dystonia, Blepharospasm, Neurologic Disorder
Related Drug Support Groups
baclofen, Botox, carbamazepine, Lioresal, botulinum toxin type b, onabotulinumtoxina, Myobloc, Kemstro